Some examples of Custom systems we have been involved with:
Industrial Application HPU's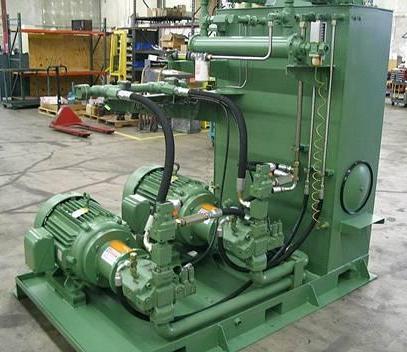 Steel Plant Processing HPU
120 HP Steel Processing Winch Drive central power-unit with all welded piping construction capable of 1500psi at 130gpm. Self-contained cooling filter loop, flow, temperature and pressure monitoring devices. Custom 500 gallon reservoir assembly with drip pan.
---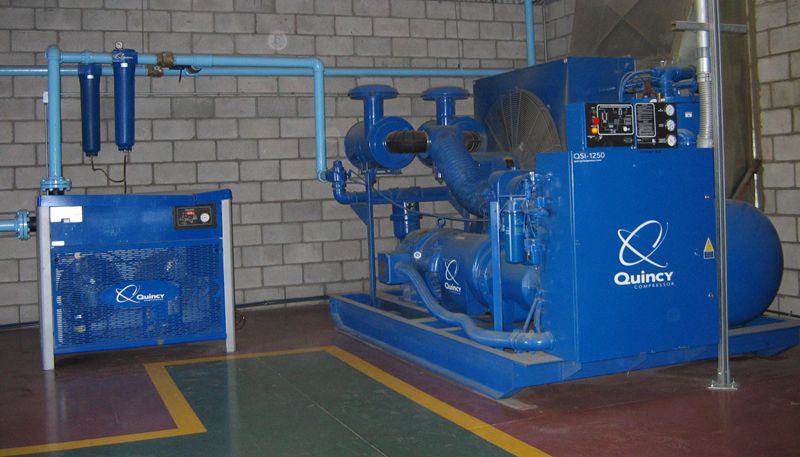 Quincy Air Compressors
HCI San Diego is a full line Quincy Air Compressor distributor. Pictured is one of several units installed at Hyundai Translead to aid in the manufacture of truck trailers and shipping containers.
---
Military Application HPU's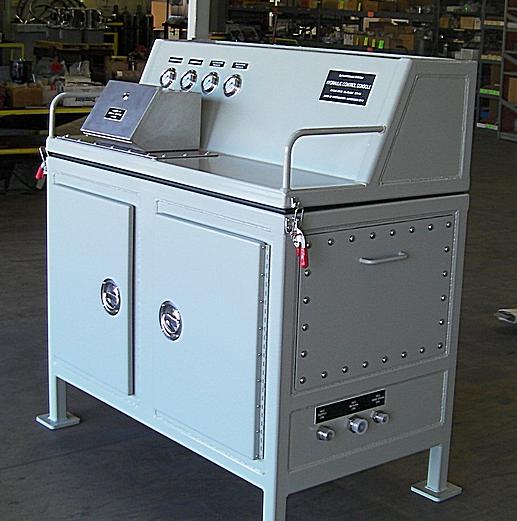 Navy Vessel Auxiliary Hydraulic Control Panel
Hydraulic CLFA Console Workstation for various Navy shipboard winch and handling systems: NEMA 4X rated, rugged waterproof steel framework epoxy coated for seaworthy environment, with a 316 stainless steel plumbing and hardware package rated to 3,000 psi.
---
General Industry Power Units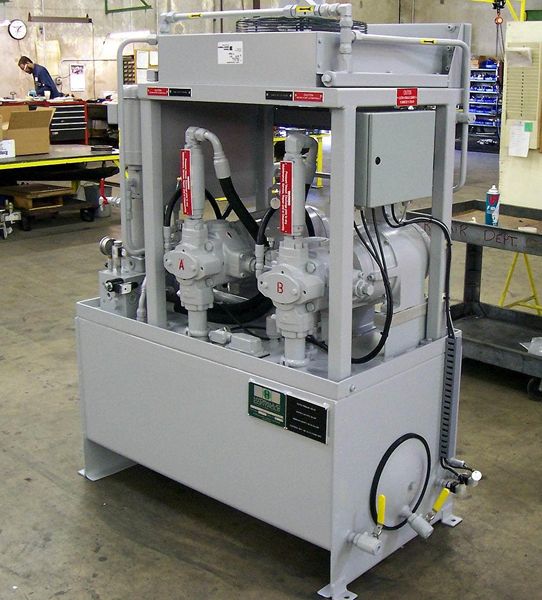 Theme Park Animation Power Unit
20 HP, 550 PSI Amusement Park Animatronics hydraulic power-unit consisting of a custom reservoir with minimal footprint and epoxy painted interior. Full redundant hydraulic power system capabilities with complete system monitoring and electrical controls
---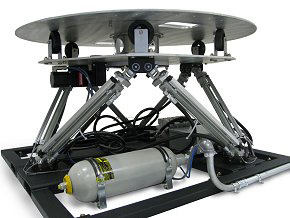 Hydraulic Motion Simulator
Motion control applications can be highly complex. Few companies know this better in practice than InMotion Simulation, a world leader in electric and hydraulic motion simulators for applications such as mobile military equipment, research and development, entertainment, training, and flight simulation. When the company decided to start building hydraulic 6-DOF simulators, owner Mark Barry reached out to several distributors, but ultimately he chose Hydraulic Controls Inc. to be sole supplier for all his company's hydraulic component needs. One of the primary reasons for his choosing HCI was our deep understanding of motion control and its application. We worked closely with Mr. Barry and his staff to make sure he received all the correct products for his simulators. From cylinders to servo valves, feedback devices to hoses, HPU to accumulator, all components were carefully reviewed and discussed before being selected. The custom power unit was fabricated by HCI to meet Mr. Barry's exacting requirements for his 6-DOF platforms, every component carefully spec'd to ensure success right from the start. Result: we've had a successful ongoing relationship with InMotion during the years since.
---
Helicopter Rescue Winch Test Unit
We're all familiar with Coast Guard or National Guard performing rescue operations using a long cable driven by a hydraulic winch assembly in the helicopter. One of the hazards of these operations is that the cable or the basket holding the person being rescued can get snagged on tree branches or the like. Another hazard occurs during high-wind operations, where a sudden strong gust can blow the helicopter upward or sideways. Coping with these hazards requires a "winch clutch" that will respond instantly and precisely to any external interference. The clutch hydraulically senses the load on the cable and any sudden inputs to it via a sophisticated hydro-proportional valving circuit manifold directly coupled to it. Within milliseconds of any jolt or snagging, the clutch system actuates the hydraulic circuit, which allows the cable to "slip" so as to keep the person in the basket from experiencing any jolts. The basket moves neither up or down while the helicopter maneuvers until the load is stabilized; then the clutch fully engages and starts lifting it again. Our customer chose Hydraulic Controls Inc. to build the hydraulic drive system that simulates all conditions in which the clutch is required to perform. Due to the critical nature of the application, our drive system was subject to intense and customer supervised testing and certifications. And that's something that Hydraulic Controls is very familiar with performing.
---
Rubber Tire Recycling Mill
ECO Green Equipment provides specialized machines for tire recycling. Recently the company reached out to Hydraulic Controls Inc. to help them create the ECO Krumbuster®, a new fine-grinding mill for crumb rubber. The Krumbuster is assembled almost entirely from parts supplied by HCI, who has also provided application support. Each machine can process up to two tons of rubber per load into fine 60-120 mesh rubber powder output. Fully adjustable computerized controls let the operator fine-tune and modify mill speed and friction ratios to precisely match final output specifications. Using the advanced hydraulic power systems we provided, the new mill also consumes less energy and takes up less space than traditional tire-cracker mills, and is designed with full protective guarding for operator safety. When operated with a recycling plant, the Krumbuster provides its users with an optimum turnkey solution for commercial tire rubber recycling needs. We supply ECO Green Equipment with the components for the Krumbuster on an ongoing basis.